Video Telegram Scraper 2022:
This script is a newer version of the old scraper. In January 2022, Telegram updated own API, as a result of which absolutely all scripts stopped working that allowed exporting users from groups. Also in the new version we have expanded the functionality.
New Telegram Scraper script 2022
No installation required
Export usernames
Filtering users by activity
Export phone numbers
Telegram Scraper 2022: How to Scrape Users from Telegram
Telegram Scraper is a great tool with which you can collect active members for your telegram groups. The scraper can work with absolutely any groups, you can export a list of users from target groups, public groups, private groups, closed groups (groups without links) are supported. You can get an active audience with good engagement and expand your competition, but you also need to understand that this is a live audience and you must offer quality content.
Installation Telegram Scraper
Despite the fact that the script uses python, you do not need to install several programs, libraries, or get programmer's skills to understand the script. Unlike all other scripts, my new scraper is packaged in an .exe file, to start working it is enough to run 1 file, no additional installation is required.
To collect an audience from a telegram group, you need
Run mine.exe

The script will ask you to enter your telegram account number

Then send "y" to confirm the number

Now you will see a list of available modes, mode 4 will collect all usernames, I recommend using it!

Now you need to select a group, specify the group number. The script will display a list of groups in which your account is a member, in order to add more groups, just join them, this is very convenient since you do not need to enter a link. The scraper can collect an audience from several groups at the same time, just specify them separated by commas.

Done! a list of users will be created in the export_data folder!
this is a really great tool and the best purchase I made having an affiliate business and growing it to the audience at that speed is outstanding. go for it if you have a business model in telegram i guess at this price you getting a tool rather than useless one-time service
iam working in small crypto project, and we prepare userlists - active investors. This Software His Very Helpful To Me. Thanks You So Much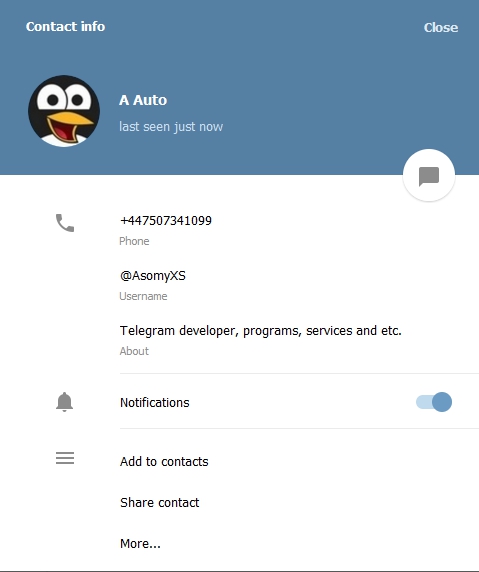 Disclaimer: This tool will extract or add members to Telegram groups(both private and public)  but not channels
Have a Question? Write in our Telegram